For starters, you need the right location for a Maui style wedding.
Given that you're here – on a website that offers wedding packages in Maui – you're on the right track!
Get the Basics Out of the Way
Each affordable package offered by Maltese Dreams includes all the necessities and luxuries that can make your wedding a day to remember. However, since you're going for a Maui-style or Hawaiian style wedding, we understand if you want even more than what our packages offer.
However, to make things easier for yourself, we do recommend that you cross off the basics in your list by choosing the correct package. This way, you won't have to worry about the licenses, minister, music, videographer, photographer, bridal bouquet or the cake.
With that out of the way, let's focus now on the bare bones of it all.
Wedding Attire
This depends on your venue. If you have a garden venue, a long-train sheath wedding dress for the bride and dress pants – semi-formal shirt combo for the groom would work well. However, if you have a beach wedding, choose comfort over fashion. A shorter dress, bare feet, white pants and shirt – all these will provide a sense of balance, with the vibrant backdrop!
Wedding Décor
Think nature, and add a bit more pizzazz to it. Maui themed weddings are utterly romantic, whimsical and colorful. So add that element to your décor by using burning torches down the aisle, chiffon or net fabric to separate the seating area and flowers and bouquets spread here and there.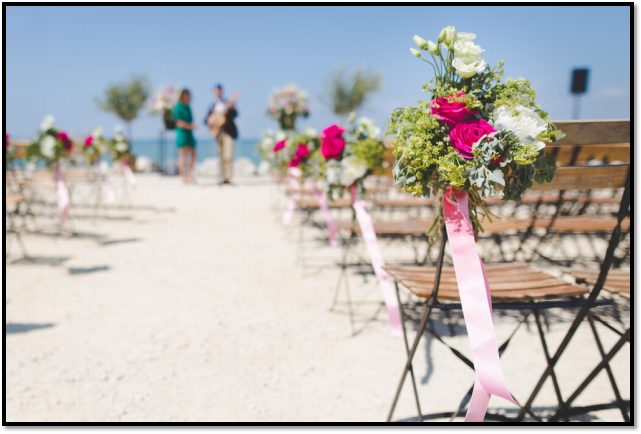 Wedding Food
Here's a list of dishes that you'll typically see in Hawaiian weddings:
Chicken long rice
Mahi-mahi
Lomi Lomi Salmon
Teriyaki beef
Kahlua pig
Mochiko chicken
Huli-huli chicken
Laulau
And so many more! Either hire a Hawaiian caterer yourself or ask your wedding planner for recommendations so you can have authentic Hawaiian cuisine. Also, don't forget to add some traditional beverages to the menu like Blue Hawaiians and Mai Tais.
Hawaiian Cake
That's something we can help you with. Some of our packages offer a wedding cake. For a Hawaii themed cake, consult with us and tell us what you want on the dessert. Silk, fresh flowers, cake toppers – whatever you want. Just make sure to keep the decoration of the cake colorful.
Get Started!
The above is just the start!
If you want a truly romantic maui wedding, contact us and find out how you can make it happen!