It could be your 25th wedding anniversary, your 50th, or a similarly significant milestone in your marriage. It could simply be that you want to pledge your love and commitment to each other all over again. In some cases, couples feel it's the right time to renew their vows after overcoming a serious illness or a rocky period in their relationship.
Whatever the reason may be, one thing's for sure. A wedding vow renewal is one of the best ways to become even closer to your spouse. As far as memorable vow renewals go, one place that's become a hot spot for couples to hold this ceremony is Maui, Hawaii.
Here are some frequently asked questions about having a vow renewal on the breathtakingly beautiful island.
Where in Maui should you say 'I Do' once again?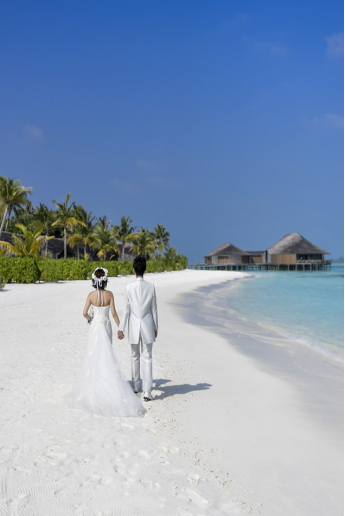 The day belongs to you and your partner, so pick a venue that holds sentimental value to you two. Nearly 6,000 couples get married in Maui and a popular place they tie the knot is at the Keawala'i Church in Mākena.
This beautiful venue is steeped in the rich Hawaiian culture and history, is both accessible to guests, and will add a fairytale charm to your event. Keep in mind that at some venues you may be asked for your marriage certificate, so be sure to bring it along!
What should the invite say?
Keep it simple and elegant. The invitation should state that the ceremony is a renewal of wedding vows of the couple. If your children are hosting, the invite should read something like, "The children of Ben and Jane Jefferson request the honor of your presence at the wedding vow renewal ceremony of their beloved parents."
Who should officiate?
Vow renewal is more of a symbolic ceremony than a legal one. So, anyone is eligible to officiate. Of course, you might want to select someone who holds value to you like your children, relatives, or close friends to lead the ceremony. If you wish, you could even choose a member of the clergy.
Should you opt for a family photo session?
Yes! Usually, couples celebrate their relationship milestone in the presence of their family members. If you're one of those, we recommend opting for a professional family photo session.
Family photos add to the sentimentality of the event. Also, it's not always easy for everyone to line up their schedule and gather at one spot. Your vow renewal ceremony is the perfect opportunity to take memorable family photos. With that said, if you plan on holding a super intimate ceremony with just you and your significant other, that's cool too!
Professional Vow Renewal Planner
Maltese Dreams will take the burden of planning right off your shoulders. The professional wedding planner offers expert wedding and vow renewal planning services in Maui. If you're looking for a talented and affordable pro photographer to capture your family photos, contact Maltese Dreams at 808-264-3151.