Weddings are the ultimate expression of your commitment and love to your significant other. It's a celebration that all your friends and family are eager to be a part of!
The celebration of your love takes months to plan and every couple wants their big day to be absolutely perfect.
Most couples these days have themes for their weddings. They're in control of what they want, instead of feeling compelled to celebrate a particular way.
So if you plan on having a Hawaiian themed retro wedding, our wedding planners have some ideas for you:
Beach ceremony
Beach weddings in Maui are the epitome of romance, love, and commitment. It's no wonder so many couples prefer having an intimate ceremony here. They want to enjoy the moment between themselves and those closest to them.
Hawaiian themed weddings take inspiration from natural Hawaiian splendor. The venue of the ceremony is a huge inspiration for the event. A dream Maui beach wedding in a secluded area is a vision to behold!
The bride walking down the aisle on the white sand and the calm blue sea behind the happy couple is a sight you'll never forget!
Wedding guest attire
Even though your wedding is small and intimate, let your guests know about the Hawaiian theme you have going on. Make sure your wedding invitations reflect the theme and that it's clearly mentioned.
Guests can wear brightly colored summer dresses while the men can wear light pants and pastel shirts. With traditional Hawaiian orchid garlands on each of them, they will surely feel part of the wedding with this little touch.
Bride and Groom outfits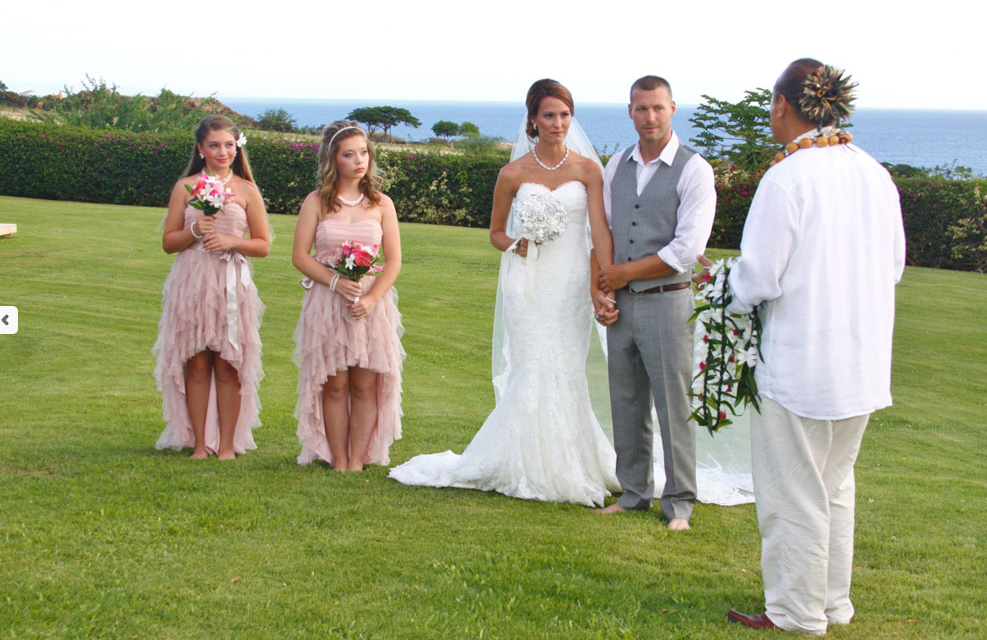 The wedding dress is an integral part of the big day. Every woman dreams of what her wedding dress would look like. Wedding dresses made of lighter fabrics and a slim easy-going silhouette fit perfectly into a Hawaiian-style wedding.
Boho-chic wedding dresses are easy to pull off and comfortable to wear. Such wedding dresses incorporate simple cuts, making them easy to dance the night away in!
"Here comes the groom all dressed in blue." Keeping this classic song lyric in mind, the groom can opt for a pastel blue ensemble. Light blue suits or even a light grey pant with a vest would look great.
Black or any other color will look too stark in comparison to the rest of the wedding. Grooms who love taking risks with their clothes could even go for a white suit and pastel tie.
Some grooms may choose to ditch the jacket or vest all together! A well-fitted shirt and light colored pant would do just fine.
Flowers
When it comes to the bride's wedding flowers, a single King Protea is enough. This local flower is stunning while being big enough to do the job of a whole bouquet. The flower is really unique; you must get some portraits with it!
Other flowers that can be used are Frangipani, Hawaiian Hibiscus, and traditional orchids. Mix up the selection by having your bridesmaid/s carry some of these colorful flowers too.
Hawaiian Music
Hawaiian music is an essential part of a traditional wedding! Get a Hawaiian band to play at your reception. The Nei Au is a customary wedding song played at all weddings. Many couples choose this song to play for their first dance. This classic was written back in the 1920s in Hawaiian. There are also many English renditions of the song by famous artists, one of them being by Elvis Presley.
Alternatively, you could have a harp at your wedding ceremony. The soothing sound of its strings coupled with the waves blend perfectly to create a serene. You will surely feel the love in the air!
Wedding Photography
A picture speaks a thousand words! Forever capture those moments filled with love with your partner on your wedding day. Every couple wants spectacular photographs of their big day! Choose a wedding photographer who can bring out the best in the moment. Choose a photographer who can capture the essence of your relationship through pictures.
With romantic, playful, and creative wedding photography option, our photographer will surely give you pictures you've dreamed of. The two of you, basking in the glory of the sunset, glowing with joy and hope of your lives ahead!
Wedding Videography
Since you're having your wedding away from home, you want to invest in an experienced videographer! You need some good quality videos, perfectly edited, to take home to your family!
So whether you're getting married in Maui on a budget or you want a lavish ceremony, visit Maltese Dreams. Our experienced wedding planners will make your wedding day the most memorable night of your lives! Have a look at the packages we have to offer, as well as the weddings we have previously done. Contact us at 808-264-3151.