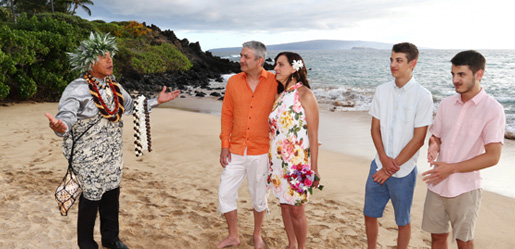 Thank you soooo much Josie for planning our 25th anniversary vow renewal. Every detail was perfect- from the make-up/hair artist you recommended (Marci was awesome!) to the minister and to the beach location. The photos are absolutely beautiful and have captured our very special day in a wonderful manner. You are definitely a pro at your craft! Thank you again for everything! Nadia and Frank
Conforti 25th Anniversary vow renewal
July 2019

Josie did a fantastic job with our vow renewal ceremony on Maui. Her pictures were gorgeous, with attention to details that are especially important when photographing our children in the pictures as well. We couldn't be happier! Thank you Josie
Bookman vow renewal ceremony
July 2019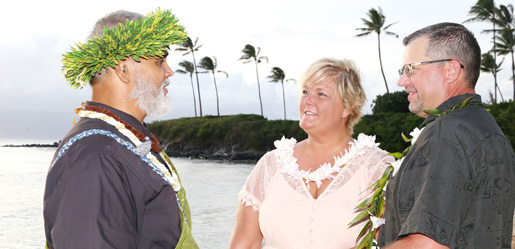 When my husband and I decided we wanted to celebrate our 25th anniversary by renewing our vows in Maui, I spent a lot of time researching different photographers in Maui. I chose Josie based on the pictures I saw on her website and the reviews I read – and I'm SO GLAD I did! Josie contacted me several times to get an idea of what kind of ceremony we wanted, which I really appreciated. The day of our ceremony, she made us feel so comfortable as we were taking the pictures. The minister she selected for us was so warm and genuine. The words he spoke were so heartfelt – we'll remember it forever. Josie, you were wonderful and we absolutely love our photos. If we ever come back, we're bringing the family and would love to have you take our pictures again. THANK YOU!!!!
Clayton 25th Anniversary Vow renewal ceremony
June 2019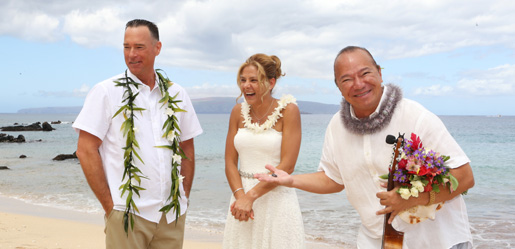 Josie is nothing short of amazing. She handled everything flawlessly and was able to deal with my "type A" personality. I was a little nervous because I found her on the internet and had never met her. Once we arrived on the beach I knew I was nervous for no reason. Everything was perfect for our vow renewal.
The photos were amazing! They are so beautiful . I couldn't have asked for anything more.
Hernandez 13th Anniversary vow renewal ceremony
May 2019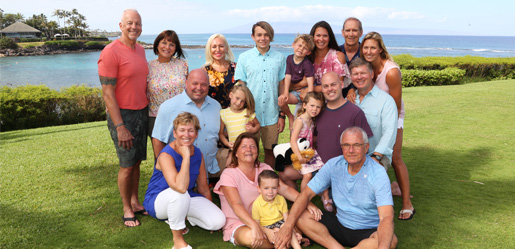 We scheduled our family photos for a group of 17, and from the start Josie responded quickly and was a dream to plan with! From start to finish our experience was excellent and the product was perfect! Price was right and turn around time was impeccable!
Conlon Family
April 2019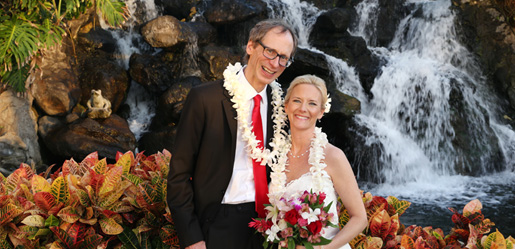 We were married this Valentine's Day! We had a simple ceremony, just the two of us. Everything was outstanding! We found Maltese Dreams website to be easy to navigate. The package prices are impressive . Everyone involved, Minister Carrll, Regina, who did hair and make up, and Josie who did photography were timely, professional and friendly! Unfortunately we did not expect inclement weather, which made our plans for a beach front ceremony unfeasible. Josie, who did some quick thinking provided several options and we were able to have it on our hotel grounds. It ended up almost being better than the beach because we got some extraordinary photos! All the planning was effortless and everything went seamless. We would highly recommend Maltese Dreams for anyone desiring a beautiful Hawaiian Island wedding!! Brent and Jody W.
Wessels Valentines Day
Feb 2019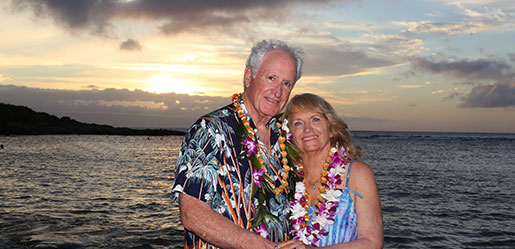 Maltese Dreams is aptly named. Josie makes your Maui dream wedding come true. My husband and I renewed our vows on our 35th anniversary and Josie arranged for everything to be as perfect as we hoped it would be and truly beyond our expectations. Her photography is spectacular. She even coaxed sweet simultaneous smiles out of our 2 and 4 year old grandkids, and that's not easy. Call her and let her make your dreams come true.
Katie & Paul
Dec. 30th 2018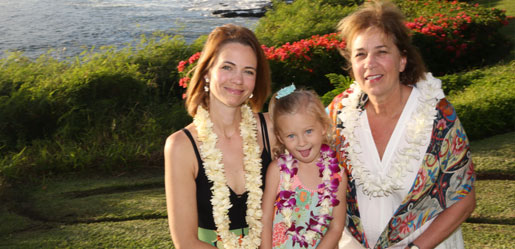 We were thrilled with the photos Joise took on our December vacation in Maui. I was impressed at how flexible she was in working with our schedule and the weather so we got the best pictures and the perfect sunset shots. It wasn't easy as we had a active 3 year old. The clarity and color of the pictures is wonderful.
Karen A.
Dec. 6, 2018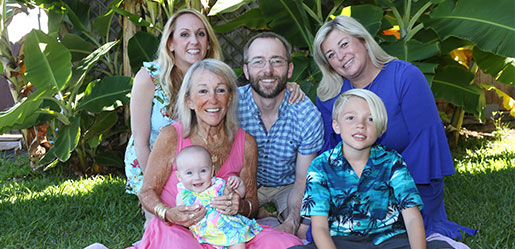 Josie Maltese is the BEST for capturing your family vacation in pictures! We have used her twice, and she has an uncanny knack for capturing a great group picture or a spontaneous moment. She will come to you or meet you somewhere. She's lived on Maui for a long time, so she's familiar with the most scenic spots, tide tables, the best time of day for good lighting etc. Recently she did a photo shoot of six of our family members (from 7 mos old to 72). Some small group shots, some of all of us, but each time showing us at our best. Way more stress-free than dragging everyone to a photo studio on the mainland! Mahalo, Josie
Paula & Family Kulakane condo Maui Hawaii
6-29-18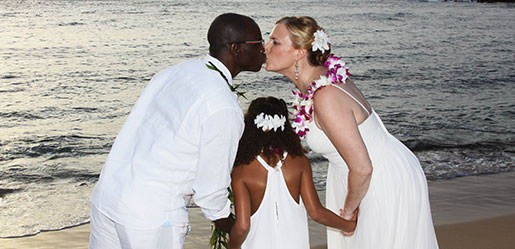 We can not say enough good things about Maltese Dreams and Josie. If it were not for Josie, our impromtu wedding dream would not have become a reality. She is a well organized and connected professional who put us in touch with very special people every step of the way for our marriage journey; from the ease of obtaining a wedding license, to the gifted Regina who did our hair and make-up, to Charles the officiator to Bryan the Vidographer and of course Josie herself. We are so incredibly grateful for all she did to create our special day within a very short period of time to the amazing photographs she took that caputured the joy and beauty of our ceremony. Thank you Josie! You are simply the best!
Nancy & Joseph
4-16-18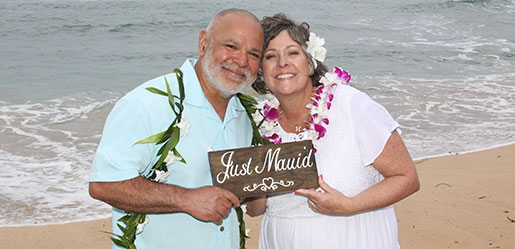 Aloha, Josie coordinated our beach ceremony at Kapalua Bay and took our pictures. Regina did my hair and makeup. Everything worked out wonderful- my husband Gilbert and I made our arrangements easily from the mainland and everything came together on our Special day. Josie sent us the pictures on CD and also used the app drop box. I had them developed easily at Costco. Thanks so much Josie. I recommend using Maltese Dreams for your wedding needs.
Missy & Gilbert Married on Maui
3-21-18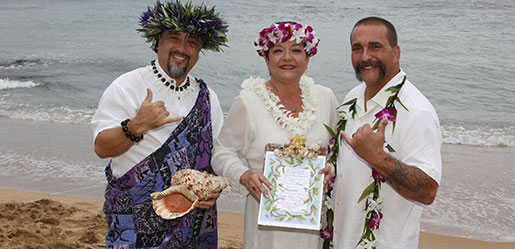 Thanks to Josie, we had the best, most stress-free wedding in Maui. She planned out everything for us & everything went smoothly. Pele' the volcano God never blessed us with a sunset but our wedding day was still beautiful & perfect temps with no rain. We'll have great memories for a lifetime!!! Thank you Maltese Dreams for making our dream of a paradise wedding come true. We'll be back next year for our anniversary!!!
Regina & Brian
3/11/18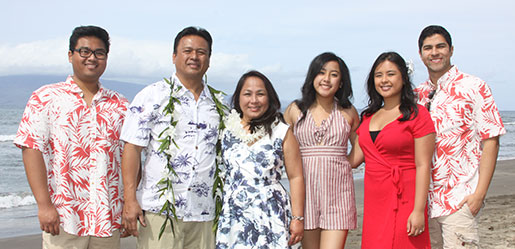 Had an awesome experience with Josie, recently had our renewal of vows and it was good decision to use Maltese Dreams .Josie took care of everything, from planning the venue, minister and getting permit. It was really a hassle free process throughout. She made everything smooth and so happy with her service. She made it easy for us as were first timers in Maui. The pictures came out very nice and she really captured the moments. Josie, cant thank you enough, it was wonderful meeting a person like you. You are highly recommended and keep up the good job! Definitely will be using again your service.
Mahalo Walter & Essie 25th Anniversary
3-9-18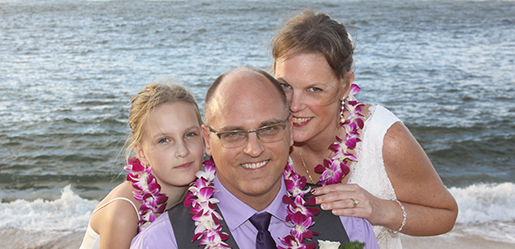 We hired Josie in Dec. 2017 to photograph our vow renewal ceremony and she did a fantastic job. She took 160 pictures and gave me a CD so I could print as many pictures and enlargements as I wanted. She is very creative with several different poses. We really like her and enjoyed working with her. I highly recommend her.
Tiffany & Jeff VB
Dec 12th, 2017

Recently choice Josie at Maltese Dreams for our vow renewal ceremony. She was very helpful as were planned by email being i live is Australia. She is easy to work with and made the event very special. We had a Hawian minister which she arranged for us. Although it was a very simple and small ceremony just the 2 of us Josie made us feel very special. I would highly recommend her services for any type of service you are planning.
Leigh & Hannah D.
Sep 15th, 2017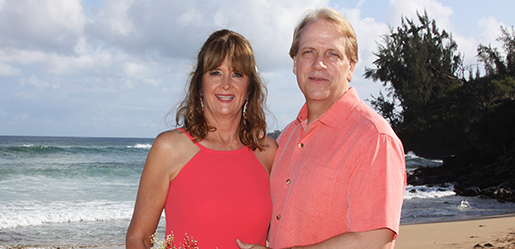 We just renewed our vows to celebrate our 25th wedding anniversary in Maui! Josie was our photographer and she was very helpful in making our day special! Thanks to her we have some great moments in beautiful photos of us and our family. She was very reliable, arrived early, had creative ideas and dropped off our CD the very next day! We highly recommend Josie!! Aloha! Sincerely,
Mindy & Steve G.
Sep 7th, 2017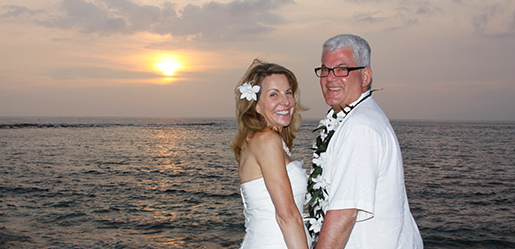 We felt that we could use some help coordinating all of the tasks involved for our March 7, 2016 wedding on Maui. After searching all of the reviews for the many wedding planners on Maui, we decided to use "Maltese Dreams Maui Weddings & Photography". This turned out to be a great decision for us and Josie Maltese was excellent. She made terrific recommendations, coordinated everything for us and everything went better than we had dreamed. We could not have picked a better wedding planner that was easy to work with and worked within our budget! Josie is also a professional photographer and the pictures she took were amazing. We would recommend "Maltese Dreams Maui Weddings & Photography" to anyone who is looking for help coordinating their wedding in Maui.
Mark & Mary G..
Mar 7th, 2017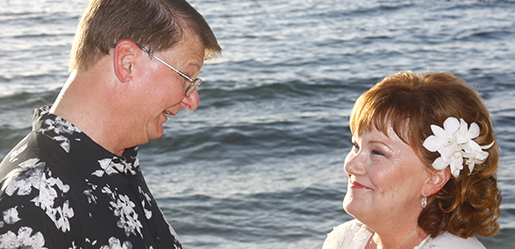 It was such a beautiful ceremony and memory that we will always treasure…many thanks to you, Josie! You captured so beautifully our special moments. We will always cherish our wedding photo's you rocked for us!
Peggy & Brian R.
Feb 17th, 2017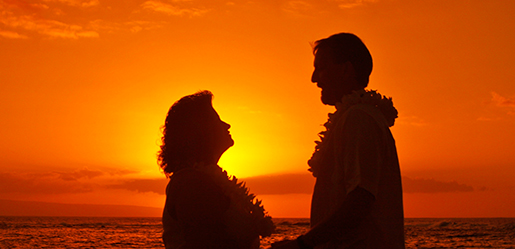 Josie made our wedding day so special capturing all the right photos. We wanted a small and private ceremony yet romantic and that's exactly what we got and JoJo captured them all our pictures. She made us feel very comfortable, Thank you so much Josie..for all our wonderful memories.
Rhonda & Clayton N.
Feb 7th, 2017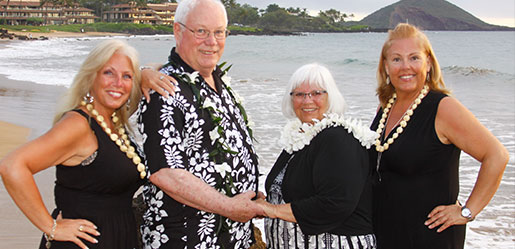 My parents were celebrating their 50th wedding anniversary in January 2016; my family and I were going to be over in the Hawaiian Islands for a vacation. I thought, what better way to express their love for one another than by renewing their vows! I contacted Josie via her website and she got back to me immediately. She arranged everything for me and answered all of my questions. She picked out a beautiful location, obtained a great minister, who sang a Hawaiian song to my parents, brought a floral lei for my mom, a different kind of lei for my dad and even gave my sister and I necklaces made from the nuts of a native Hawaiian tree. Josie was very personable and light hearted. She shared all of her pictures with us, with a fast turnaround timeline. I would highly recommend her if you're looking to renew your vows and/or get married.
Keith & Bev. 50th Anniversary
Jan. 28, 2017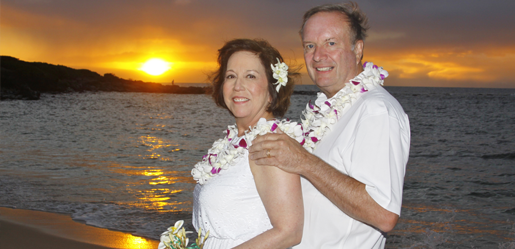 Josie exceeded our expectations and took very professional wedding pictures. The day of our wedding was the first time we meet Josie. She was very professional and captured our wedding beautifully in pictures. We originally planned to only purchase a limited number of photos but after seeing the high quality images of the proofs, we purchased them all. She was quick to turn around the CD of the pictures so we could use them back home for a party.
Julie & Stan F.
Feb 13th, 2016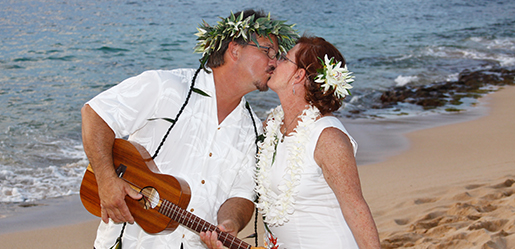 Josie did a fantastic job. We decided at the last minute to renew our wedding vows on the beach at Kapalua. Josie was very fast to respond to my query, and lined us up with Rev. Ernest Pua'a to perform a beautiful, thoughtful ceremony. I knew from what I saw on her website that her images would be great, and they were. She really, really captured the moment beautifully. She used her camera to capture color and light where there was none, making each image a standout. We just let her pose us (except for one shot i asked she take with my phone, which she cheerfully did) and they were beautiful and moving. I still look at my pictures a month later and can bring up the emotions of the day. She went out of her way to deliver the CD to our hotel before we left. I can't recommend her enough.
Josie Sandy & Neil O.
Oct 13th, 2015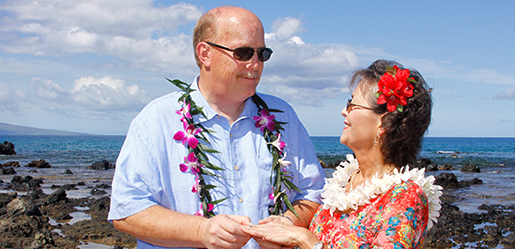 We wanted a small ceremony with just the two of us but still wanted the special touches of a "big" wedding. The "Just Maui'd" package on Josie's Maltese Dreams website was perfect…flowers, cake, celebratory toast, pictures – everything for an affordable price. She set up and took care of every detail which meant a lot to us since we were planning this from 4,000 miles away. My spouse and I have known each other for 30 years, so we were not the "usual" wedding couple. Josie made sure everything was beautiful and exactly what we wanted. The pictures are gorgeous, she is an amazing photographer. We highly recommend Josie Maltese as a wedding planner and a photographer, she was fabulous.
Kim & Eddie
Sept 17th, 2015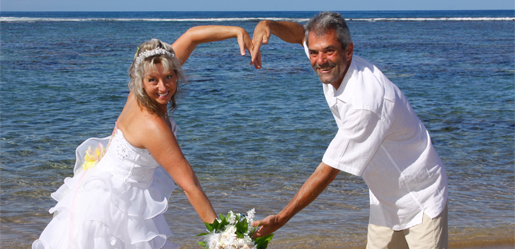 Thank you so much for taking the time out on July 4th to do our wedding photos! You did an AMAZING job on them! We ABSOLUTELY LOVE THEM! We will definitely recommend you to anyone who needs a photographer in Maui!!!
Dave & René
July 4th, 2015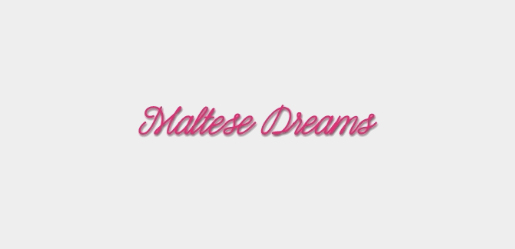 John and I wanted a romantic wedding on the beach…just the two of us. JoJo was so helpful from the start, we were only going to be in Maui a short amount of time and then moving onto some of the other islands and she helped so much…suggesting a florist and even picking up our flowers, making an appointment with a license agent, finding an amazing minister, timing our ceremony perfectly for a beautiful sunset we will never forget and taking beautiful photos. Allowing us to suggest photos we wanted as well for important family traditions. We appreciated everything and highly recommend JoJo!! Mahalo very much Josie Sincerely,
John and Jen N.
April 13th, 2014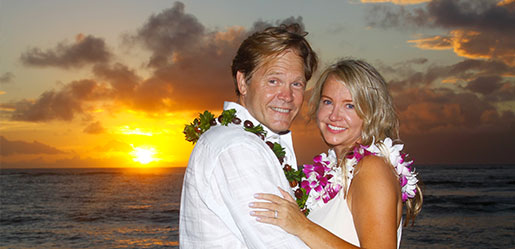 I had short notice to plan my Wedding in Maui. I knew I wanted a beach sunset wedding and had to plan it all in less then 2 months. I was so fortunate that I hired Josie. She took care of everything. She hired the minister, videographer, and made all the plans for a perfect sunset beach wedding. It was all captured by her amazing photography. She captured it all in her photos. The sunset photos are amazing! Josie has years of experience and it shows. One of the reason we choose her, her extensive wedding photography experience along with her connections on being on island for 30 years. She was the reason our wedding was a success and we have it all thanks to her.
Debbie & Gary
Aug. 31, 1915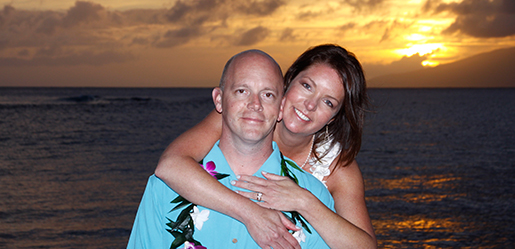 Thank you so much for the most amazing wedding! From start to finish, you handled every need of ours. We both loved Kapalua Bay and Charles who performed our ceremony. He made it very personal, and memorable by the things he said, sang and the speed of keeping itslow. Your pictures are BREATHTAKING and we are so excited to get them framed and up in our house. Every moment during the ceremony, to the wonderful dinner afterwards at Merriman's made for the best wedding ever! We couldn't be happier!
Becci & Pat
May 6th, 2015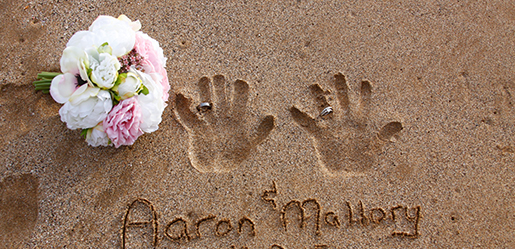 Josie made my wedding day absolutely perfect! She took every bit of stress away that I had and was very affordable. She not only is the photographer but was also the cordinator for us, she made the appointment for our marriage license to be done and also made the appointment for the minister to come to the sight. She had a sight in mind and suggested we do a sunset wedding, after receiving detailed directions to the sight we arrived to an amazing beach with an unreal sunset for photos. She made the photo taking very fun and easy, I am very self-conscious about my weight and she made me feel so comfortable and had us do poses that accented my body .. it was beyond my expectations!! I recommend her to everyone!
Mallory & Aaron H.
April 8th, 2015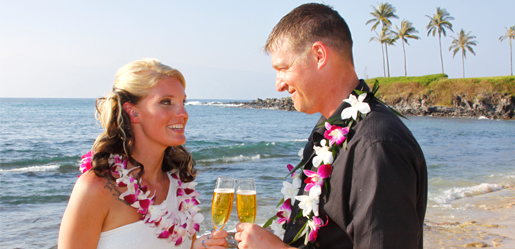 We were both very happy with how our wedding turned out. Josie made it so easy for us to plan a destination wedding. She is so friendly and helpful. Loved how it turned out! Thank you Josie!!!
Brittany & Jame
Jan 13th, 2015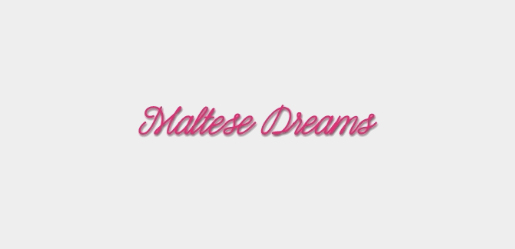 I would recommend JoJo with Maltese Dreams Weddings & Photography for any of your wedding or anniversary plans. JoJo planned our beautiful family wedding in Maui in 2004 and this past September, we contacted her again to plan our anniversary wedding vow renewal ceremony on the same beach. Both times, she has provided EXCELLENT service. If you are thinking of a wedding in Maui (which I highly recommend too), please contact JoJo. You will not be disappointed! She is the greatest!
Pam & Jim M.
Jan 10th, 2015